Get started
Bring yourself up to speed with our introductory content.
Hyper-converged infrastructure options simplify virtual environments
As hyper-converged infrastructure products expand, so does adoption of the technology. This guide can help you determine whether hyper-converged technology could benefit your environment.
Introduction
Hyper-converged infrastructure, although still an evolving technology, has been receiving increasing attention as a technology that can simplify the architecture of virtual environments at a low cost.
Products that fall under the hyper-converged category integrate compute, storage, networking and virtualization resources that have been preconfigured to work together. These products often include additional storage features such as deduplication or compression, as well as management functionality.
An early player on the hyper-converged scene was Nutanix, which recently added data deduplication for data on hard disk drives to its Virtual Computing Platform to align more closely with one of its biggest competitors, SimpliVity. Also making headlines is VMware, which this year released VSAN, a software option that pools capacity and compute from servers in a vSphere environment; early feedback shows customers view it as a viable hyper-converged infrastructure option. Meanwhile, established hyper-converged vendors are adding support for additional hypervisors, which could lead to broader adoption.
This guide will explain what's driving the "hype" in hyper-convergence, how the technology can benefit a virtual environment and what products are available today.
1

Evolution

-
Hyper-convergence grows from virtualization
Some analysts argue that hyper-convergence is a product of converged architectures. They became hyper-converged once vendors began designing them with virtualization in mind, adding management layers and storage features. As these products are upgraded and new ones enter the playing field, it can be hard to differentiate a hyper-converged infrastructure from other evolving storage technologies. The following links provide a timeline as to how hyper-converged storage took root, and where it's grown to today.
2

Implementation

-
Considerations for your hyper-converged storage environment
The first reason a hyper-converged infrastructure might appeal to storage professionals is the convenience -- there's very little configuration that needs to be completed, and commodity hardware often puts it at a lower price point. But different products support different hypervisors, and feature sets may vary.

Download this free guide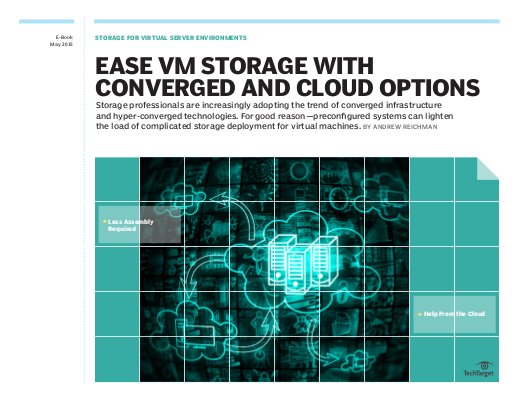 No assembly required: Converged storage options ease virtual server concerns
Can converged storage live up to the all the hype? In this free guide, the experts from SearchVirtualStorage.com offer a comprehensive walkthrough to get started using converged infrastructure and hyper-converged technologies and reveal how these preconfigured systems can simplify storage deployment for VMs.
By submitting your personal information, you agree that TechTarget and its partners may contact you regarding relevant content, products and special offers.
You also agree that your personal information may be transferred and processed in the United States, and that you have read and agree to the Terms of Use and the Privacy Policy.

3

Market spotlight

-
Hyper-converged options available today
It started with just a few hyper-converged products, but more vendors have been offering technologies that fall in this category, though they may differ from the original infrastructure-in-a-box architectures. Maxta announced a software-only version in November 2013, similar to VMware's VSAN, while Atlantis delivered a hyper-converged option a few months later in February 2014. These links will provide you with the information you need regarding some of the prominent products on the market today and their feature sets.