Definition
SAN/NAS convergence
SAN/NAS convergence is the merging of network attached storage (NAS) with storage area network (SAN) technologies through the use of newer techniques that overcome incompatibilities between the two.

Fiber Channel (FC) SANs are extremely fast but also expensive, complex and difficult to manage. iSCSI and Fiber Channel over Ethernet (FCoE) have reduced these challenges by encapsulating SCSI commands into IP packets for transmission over an Ethernet connection, allowing SANs to operate within a LAN rather than requiring a separate SAN network.

Download this free guide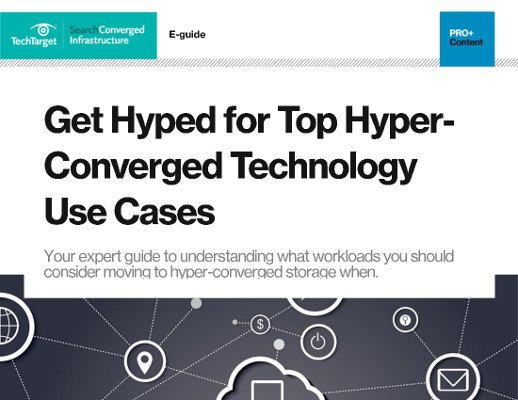 Download: Is the lure of HCI really worth the bite?
Hyper-converged technologies have been relentlessly dangled in front of IT departments like a lure—but how do you know if your team should bite? Beyond just VDI, this guide delves in-depth into HCI use cases, illustrating which workloads HCI best suits, which workloads to avoid, emerging use cases like backup and DR, and more.
Instead of two networks -- an Ethernet local-area network (LAN) for user communication and an FC SAN for storage -- an organization can now use its existing knowledge and infrastructure for both LANs and SANs. Along with unified storage, which enabled block and file storage through modified NAS appliances, this paved the way for SAN/NAS convergence.

Convergence of the two allows simple file sharing to be performed by scalable, inexpensive NAS, saving the massive bandwidth of the SAN for purposes that require it. The direct communication between the two systems also enables better backup, snapshots and scaling abilities.
Continue Reading About SAN/NAS convergence
Dig Deeper on Converged Infrastructure Implementation