Unisys is an American multinational information technology (IT) company that provides hardware, software, IT services and consulting.The company's offerings include outsourcing and managed services, systems integration and consulting services, high-end servers, cybersecurity products, cloud management software and maintenance and support services.
Content Continues Below

Download this free guide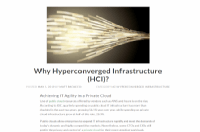 The 3 Main Components of HCI
Hyper-converged infrastructure (HCI) is growing in popularity because it allows IT leaders to simplify IT operations, create a more agile, scalable IT infrastructure, and reduce costs. Learn about 3 main characteristics of HCI and the emerging edge computing use case.
Unisys can trace the company history back over 140 years, to the development of the first commercially-succesful typewriter by E. Remington & Sons. In 1949, Remington Rand produced 409, the world's first business computer, which it sold as the UNIVAC. UNIVAC was the first computer used by the United States Internal Revenue Service and the first computer ever installed in Japan. In 1950, Remington Rand acquired the Eckert-Mauchly Computer Corp. J. Presper Eckert and John Mauchly were the creators of ENIAC, the first large-scale general purpose computer.
In its current incarnation, Unisys was founded in September 1986 when its predecessor, Sperry, was acquired by Burroughs, another mainframe company. The name Unisys was the winning entry in an internal competition. Chuck Ayoub submitted Unisys as a portmanteau of united, information and systems.
Unisys headquarters are in Blue Bell, Pennsylvania.
This was last updated in
October 2016
Continue Reading About Unisys
Dig Deeper on Hyper-Converged Vendors and Products