Definition
converged infrastructure
Converged infrastructure, sometimes known as converged architecture, is an approach to data center management that packages compute, networking, servers, storage and virtualization tools on a prequalified turnkey appliance. Converged systems include a toolkit of management software.
Converged infrastructure is gaining momentum as IT organizations shift away from owning and managing hardware to a flexible self-service model in which resources are consumed on demand. Rather than multiple IT assets existing in independent silos, converged infrastructure bundles hardware components with management software to orchestrate and provision the resources as a single integrated system.
Content Continues Below

Download this free guide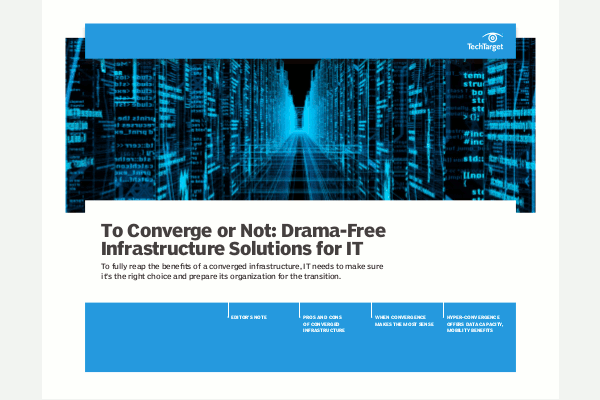 Download: How to fully reap the benefits of a converged infrastructure
Inside this essential guide, discover a detailed breakdown of the pros and cons of converged infrastructure, its top use cases, and the steps to take to prepare your existing infrastructure for the transition. Also, learn about hyper-convergence and how it differs from converged infrastructure.
The goal of converged infrastructure is to reduce complexity in data center management. The principle design factor is to eliminate issues of hardware incompatibility. Ease of deployment of converged infrastructure is appealing to enterprises that write cloud-native applications or host an internal hybrid or private cloud.
Gartner classifies converged infrastructure, along with hyper-converged infrastructure (HCI), within the category of integrated infrastructure systems or integrated stack systems.
Comparing converged infrastructure to traditional data center design
Traditional data center design requires that application servers, backup appliances, hypervisors, network cards and file storage systems be individually configured and linked together. Typically, each component is managed separately by a dedicated IT team. This arrangement serves organizations that have petabytes of data across thousands of applications, but management challenges can arise when trying to rationalize the costs or undertake a refresh cycle.
For example, the storage you buy comes from a different vendor than the one who supplies your servers and network cards, with each hardware device having different warranty periods and service-level agreements.
By contrast, converged infrastructure vendors offer branded and supported products in which all the components -- servers, software, storage and switches -- reside natively on a qualified hardware appliance. Owing to its smaller physical footprint in the data center, converged infrastructure helps to reduce the costs associated with cabling, cooling and power.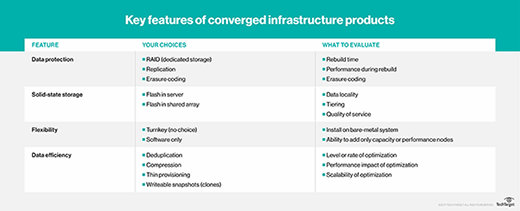 Converged infrastructure cloud use cases: Benefits and drawbacks
Converged architecture is based on a modular design that presents resources as pooled capacity. Each preconfigured module added to the system provides a predictable unit of compute, memory or storage. This visibility into resource consumption enables organizations to rapidly scale private cloud infrastructure to support cloud computing, virtualization and IT management at remote branch offices.
One advantage to buying a converged system is the peace of mind that comes with purchasing a vendor's validated platform. A typical converged infrastructure stack is preconfigured to address the needs of a specific workload, such as virtual desktop infrastructure or database applications.
Converged infrastructure products enable users to independently tune the individual components that comprise the architecture. This flexibility offers improved management flexibility over other IT architectures. The vendor supplying the converged system provides a single point of contact for maintenance and service issues.
However, there are limitations as to what you can do with converged technology. A user has little latitude to alter the basic converged infrastructure configuration. Separately adding components following the initial installation increases cost and complexity, negating the advantages that make converged infrastructure attractive in the first place.
How to deploy a converged infrastructure
There are various ways to implement converged infrastructure. You could use a vendor-tested hardware reference architecture, install a cluster of stand-alone appliances or take a software-driven, hyper-converged approach.
A converged infrastructure reference architecture refers to a set of preconfigured and validated hardware recommendations that pinpoint specific data center workloads. A vendor's reference architecture helps guide enterprises on the optimal deployment and use of the converged infrastructure components.
Users may opt to purchase a dedicated appliance as the platform on which to run a converged infrastructure. Using this approach, a vendor will provide a single hardware appliance that consolidates compute, storage, networking and virtualization resources, either sourced directly from the vendor or its partners. Customers can expand the converged cluster by purchasing additional appliances to achieve horizontal scalability.
Hyper-converged architecture abstracts compute, networking and storage from the underlying physical hardware, while adding virtualization software features. Hyper-converged products offer additional functionality for cloud bursting or disaster recovery. Administrators are able to manage both physical and virtual infrastructures -- whether on site or in the cloud -- in a federated manner using a single pane of glass.
Converged vs. hyper-converged infrastructure vs. composable infrastructure
Although converged infrastructure and hyper-converged infrastructure are sometimes used interchangeably, the technologies differ slightly in the implementation and range of features.
The converged infrastructure market sprang from the concept of HCI. In a converged infrastructure, the discrete hardware components may be separated and used independently. This component separation is not supported by HCI platforms.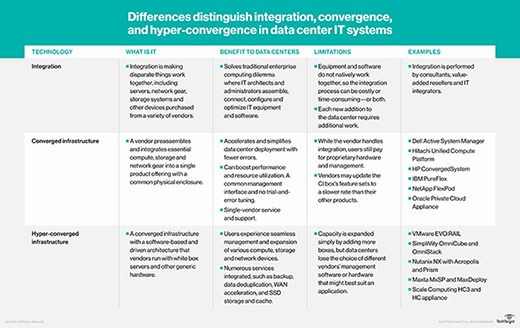 Hyper-converged infrastructure enables other components to be added by implementing software-defined storage features. For example, hyper-converged infrastructure supports such data center necessities as backup software, inline data deduplication and compression, replication, snapshots, and WAN optimization. A good way to think of the distinction is that converged infrastructure is based mainly around the supported hardware, whereas HCI combines the hardware with granular data services.
In general, converged infrastructure products are customized to support the particular application workloads of large-scale enterprises. Hyper-converged infrastructure is geared for small and midrange enterprises that don't require as much customization.
A related term, composable infrastructure, bears similarities to converged and hyper-converged infrastructure systems. The distinction of composable infrastructure is that users are able to reconfigure the infrastructure as workloads evolve within a data center. In composable infrastructure, an IT administrator does not need to be concerned with the physical location of the IT components. Instead, objects expose information via management APIs to enable automated discovery and delivery of services on demand.
Leading converged infrastructure vendors and products
Nutanix Inc. is credited with pioneering hyper-converged infrastructure as an alternative to complex NAS and SAN systems. Nutanix's hardware platforms include the NX-1000, NX-3000, NX-6000 and NX-8000. Nutanix does not sell servers, but packages its Virtual Computing Platform HCI software on OEM partners' hardware.
Dell EMC XC Series is a Nutanix-powered hyper-converged platform based on Dell PowerEdge servers. Server vendor Lenovo markets the Lenovo Converged HX Series arrays, which packages the Nutanix hyper-converged software, including the Nutanix Acropolis hypervisor.
Virtually all legacy storage vendors offer branded converged infrastructure platforms, either directly or through channel partners. The list of products includes:
Atlantis Computing HyperScale all-flash nodes;
Cisco HyperFlex integrates Springpath file system software on Cisco Unified Computing System (UCS) servers;
Dell EMC VxRack SDDC Systems and VxRail (HCI) products are part of the Dell EMC Converged Infrastructure Division -- the Dell EMC VxBlock line replaced the VCE Vblock products;
Hewlett Packard Enterprise (HPE) ConvergedSystem;
HPE SimpliVity HCI is based on HPE ProLiant servers;
Hitachi Unified Compute Platform;
IBM VersaStack reference architecture includes Cisco UCS, Cisco switching and IBM Storwize V7000 arrays;
NetApp FlexPod also incorporates Cisco UCS servers and Cisco switching;
Oracle Cloud Converged Storage software installed on Oracle ZFS arrays; and
VMware vSAN hyper-converged software that runs on commodity hardware.
Startup storage vendors with converged and HCI products include:
HyperGrid HyperConverged Infrastructure;
Pivot3 Acuity and vSTAC HCI;
Scale Computing HC3 HyperCore;
Stratoscale Symphony;
Tegile IntelliStack; and
Tintri VMstack.
Red Hat Hyperconverged Infrastructure is an open source reference architecture for deploying Red Hat software on recommended servers.
Considerations when vetting converged, hyper-converged products
The fact that converged and hyper-converged infrastructure are sometimes used synonymously underscores the importance of getting accurate, detailed information from vendors. You should ask any vendor under consideration to demonstrate if its product truly is a converged infrastructure. Find out if the converged product in question enables network devices, servers and storage systems to run independently of one another -- something a hyper-converged infrastructure platform typically does not support.
As is the case when purchasing a legacy IT architecture, customers will have to deal with some vendor lock-in when purchasing converged infrastructure, although this may not be as daunting as it sounds. For one thing, converged infrastructure is designed as a turnkey appliance for rapid implementation, and it uses commodity servers and network gear you would need to buy anyway. Having a common hardware and software interface also makes it easier to maintain and manage your converged infrastructure.
That's not to say vendor lock-in doesn't present risks. You should request information on the vendor's product cadence and timeline for integrating additional features and functionality.
Some converged infrastructures are designed as all-flash systems, while others are available only in a hybrid configuration. Determine in advance if a vendor offers enough flexibility to support your organization's growth, and plan accordingly.
Equally important is getting clarity on the longevity of the chosen vendor. This involves planning for the worst-case scenario, such as the vendor going out of business or getting acquired and allowing product development to languish.
This was last updated in
October 2017
Continue Reading About converged infrastructure
Dig Deeper on Converged Infrastructure Implementation