Definition
hyper-convergence
Hyper-convergence is a software-centric architecture that tightly integrates compute, storage and virtualization resources in a single system that usually consists of x86 hardware.

Download this free guide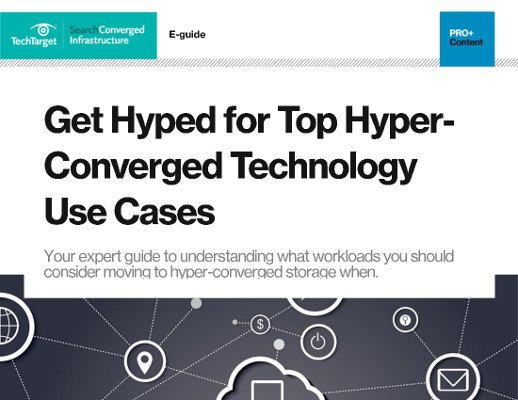 Download: Is the lure of HCI really worth the bite?
Hyper-converged technologies have been relentlessly dangled in front of IT departments like a lure—but how do you know if your team should bite? Beyond just VDI, this guide delves in-depth into HCI use cases, illustrating which workloads HCI best suits, which workloads to avoid, emerging use cases like backup and DR, and more.
A hyper-converged system is typically sold as a commodity hardware box, but it can also be sold as software that can be installed on a buyer's existing hardware or as hardware purchased specifically for the installation.
A hyper-converged system allows the integrated technologies to be managed as a single system through a common tool set. Hyper-converged systems can be expanded through the addition of nodes to the base unit. Most hyper-converged systems require a minimum of three hardware nodes for high availability. A grouping of nodes is known as a cluster.
Hyper-convergence vs. converged
Hyper-convergence grew out of the concept of converged infrastructure. Under the converged infrastructure approach, a vendor provides a preconfigured bundle of storage, server and networking hardware and software in a single chassis with the goal of minimizing compatibility issues and simplifying management. Converged infrastructure bundles consist of discrete hardware products sold as a single SKU. The technologies in a hyper-converged infrastructure (HCI), however, are so integrated that they cannot be broken into separate components.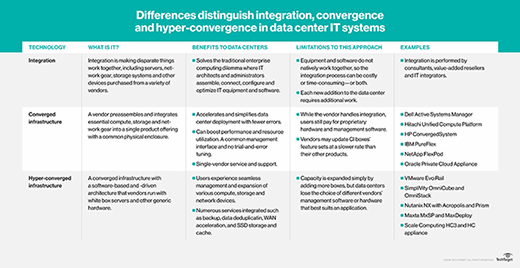 The hypervisor is also more tightly integrated in hyper-converged systems than in converged systems. While most converged infrastructures support VMware and, usually, other hypervisors as well, a hyper-converged infrastructure runs all key data center functions as software on the hypervisor.
An early promise of hyper-convergence included networking in the stack, but that has not yet happened in a meaningful way. Hyper-converged vendors are still working on providing and managing network resources in the same way they support data storage and compute.
Ben Woo, managing director of Neuralytix, explains when to use hyper-converged vs. converged infrastructure products in your organization.
Almost all hyper-converged vendors support VMware's market-leading hypervisor software, although some support Microsoft Hyper-V and Kernel-based Virtual Machine (KVM) hypervisors. Early hyper-converged player Nutanix sells its own Acropolis hypervisor product based on open source KVM, while continuing to also support VMware hypervisors.
Benefits/drawbacks
The tight integration of the components in a hyper-converged infrastructure provides its primary benefits: ease of management and ease of scaling. Because all of the components have been designed from the ground up or modified by the vendor to work tightly together, it is possible to manage all resources from one management tool or console, including compute, storage networking and virtualization.
When an organization needs more IT resources, expanding the HCI is simply a matter of adding more nodes. This also leads to one of the primary drawbacks of a hyper-converged infrastructure: All resources must be increased when an organization needs to increase any one resource. Early HCI products required an organization to expand all compute resources and the number of virtual machines (VMs) when expanding storage. To ease this problem, newer HCI platforms include nodes that are either storage- or compute-centric.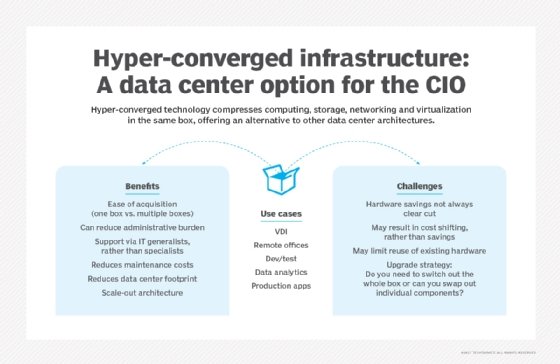 Virtual machines
Hyper-convergence is designed to run VMs. A hyper-converged infrastructure system will come with a hypervisor, designed or modified by the vendor specifically to work with its product. Because the hyper-converged system virtualizes all resources, any specific amount of those resources can be adjusted to accommodate more or less VMs on the fly without having to suspend the activity of any virtual machine running at the time.
Once the number of VMs has reached the capacity of the hyper-converged infrastructure, scaling is as easy as adding more nodes. New nodes -- with compute, storage and networking resources -- can be added to the overall storage pool to be shared among the virtual machines.
Major vendors and products
Dell EMC sells its VxRail appliance with VMware vSAN HCI software for customers using VMware hypervisors. The vendor also sells its XC Series for customers with a hypervisor other than VMware's already installed in their IT infrastructure. The XC Series uses the Nutanix software stack through a partnership between Dell and Nutanix.
Hewlett Packard Enterprise, which acquired SimpliVity for $650 million in early 2017, sells an HPE SimpliVity hyper-converged product that packages SimpliVity OmniStack software on HPE ProLiant servers.
Cisco bought HCI software vendor Springpath for $320 million in September 2017, and runs Springpath software on its Unified Computing System servers in its HyperFlex HCI appliance.
Another server vendor, Lenovo, packages its hardware with software from several partners, including Nutanix.
NetApp, the largest standalone storage vendor, began selling NetApp HCI appliances in 2017 that use flash hardware from its SolidFire hardware platform.
Continue Reading About hyper-convergence