DataCore Hyper-converged Virtual SAN (PSP5 Update)
DataCore's Hyper-converged Virtual SAN update wins bronze award for server-based storage in 2016 Storage Products of the Year competition.
Gold winner in the Storage magazine/SearchStorage.com 2016 Products of the Year Server-Based Storage category.
DataCore Software Corp.'s Hyper-converged Virtual SAN update captured the bronze award in the server-based storage category as the PSP5 update scored highest among 12 finalists in the areas of performance and functionality.
One judge called the PSP5 update a "good evolution of the platform for multithreaded workloads."
"Well-featured product with excellent performance [in software-defined storage] SDS already and great scale out to 64 PB," another judge wrote.
Technology optimizations in the Hyper-converged Virtual SAN's Parallel I/O software can boost performance by up to 50% over prior releases when running on multicore x86 servers, according to DataCore Software. The bottleneck-reducing Parallel I/O software, which enables multicore servers to use all available cores to execute multiple I/O threads, won the gold award for storage system software in 2015's Products of the Year competition.
"Performance is dependent on whatever hardware you run it on," one judge noted.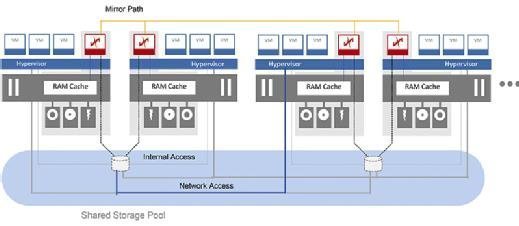 A key enhancement in the PSP5 update of DataCore's Hyper-converged Virtual SAN was the expansion of the maximum capacity of the high-speed cache from 1 TB to 8 TB per node. DataCore Software said the larger cache would serve up more I/O requests from memory and speed transactions and analysis.
Additional new features in the update included support for faster 32 Gbps Fibre Channel host bus adapters (HBAs) from QLogic, deeper integration with VMware and Microsoft hypervisors, and VMware VVOLs certification. DataCore Software also provided more granular quality of service and access controls at the virtual disk level and improved performance monitoring tools to ease the identification of heavy workloads that can impact system response and capacity.
One judge said the PSP5 update "leverages DataCore's extensive storage functionality into a more affordable and palatable entry-level SDS for small organizations."
DataCore's Hyper-converged Virtual SAN targets traditional hyper-converged uses, such as virtual desktop infrastructure and remote office branch office environments, as well as latency-sensitive enterprise applications, including databases and ERP systems. The minimum configuration for high availability is two nodes, and the maximum expansion is 64 nodes. DataCore's Hyper-converged Virtual SAN can scale storage capacity independently from compute.
DataCore Hyper-converged Virtual SAN is priced at $5,000 per node. Current customers can upgrade to Version 10 PSP5 at no charge under their existing software update service and support contracts.
Next Steps
DataCore products boost online student access
Q&A with DataCore on SSD relevance
DataCore boosts enterprise features of storage virtualization software
Dig Deeper on Hyper-Converged Infrastructure Systems