kromkrathog - stock.adobe.com
Evaluate
Weigh the pros and cons of technologies, products and projects you are considering.
Hyper-converged infrastructure vendors gain traction in 2020
What will the hyper-convergence market bring in 2020? Learn how 13 hyper-converged infrastructure vendors are addressing the overall market and which use cases their tools address.
Hyper-convergence continues to gain momentum in 2020. As such, there are several hyper-converged infrastructure vendors to keep an eye on in the new year. This article examines several different categories of vendors, the features of their tools, the use cases they address and what makes their products stand out from their competition.
The dark horses
This category consists of small, lesser-known vendors or vendors that are new to the hyper-converged infrastructure market. The six vendors in this category will likely gain increased market share in 2020.
Ctera Networks Edge X Series
Since 2009, Ctera Networks has offered its Edge Filers cloud storage gateways. Initially, these appliances were geared toward the SMB market, but more recently, Ctera has begun focusing on distributed enterprise environments.
Ctera's latest offering, Edge X Series, is designed to combine hyper-converged edge computing, edge-to-cloud file services and multi-cloud data management. Like its predecessors, the Edge X Series is at its core a cloud gateway. It's equipped with either nine or 12 SSDs and can provide up to 40 TB of storage.
Ctera envisions two primary use cases for these devices. The first is to provide remote office branch office, or ROBO, with file services. The device can sit at the edge and provide various tier 1 application and data management services to remote offices. The second use case for the Edge X Series is to provide local storage to virtual desktop infrastructure, or VDI, clients. Users will be able to save data locally, thereby reducing the latency associated with file-related tasks.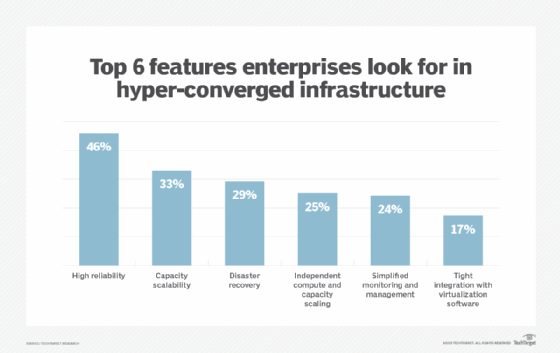 HiveIO
HiveIO, a relative newcomer to the hyper-converged infrastructure market, provides a software-based product that's designed to run on commodity hardware. The company's Hive Fabric is designed to be hardware-agnostic and is based largely on open source components, such as the KVM hypervisor and the GlusterFS file system.
The vendor claims IT organizations can reduce their Capex costs by either deploying the Hive Fabric to commodity hardware or by extending the lifespan of existing hardware. The software can be installed on any x86-based Ubuntu server.
In addition to its basic hyper-converged infrastructure capabilities, HiveIO offers several advanced features. For example, the software supports GPU sharing and passthrough for VMs. HiveIO also provides configurable, in-memory storage and software-defined networking capabilities. Additionally, the company's Hive Sense feature collects logs and metrics and proactively sends them to its support department. That way, when a customer contacts support, the support technician will already have the relevant data.
Pivot3
The Pivot3 hyper-convergence product is designed for use in the enterprise. Two main things make Pivot3 stand out from other products on the market.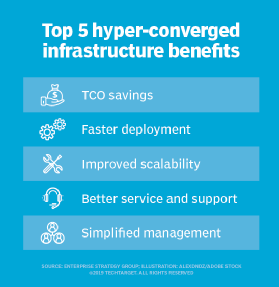 First, Pivot3 makes extensive use of AI. Pivot3's AI engine is designed to eliminate VM resource contention and to assist with workload mobility and consolidation. Pivot3's other competitive advantage lies in its performance. The Pivot3 website boasts that their product delivers nine times the performance of other hyper-converged infrastructure products with 62% lower latency and three times the VM density. This performance can be largely attributed to Pivot3's use of NVMe PCIe flash storage.
Pivot3 also has its own patented erasure coding technology that's designed to maximize storage capacity, efficiency and resilience. This allows Pivot3 to deliver six nines of availability.
Robin Storage
Robin Storage from Robin.io places a major emphasis on application-aware storage. The idea is that many databases and big data offerings were created to run on either physical or virtual servers. As such, it can sometimes be problematic to use database applications in a container environment because of issues with storage persistency. These are the types of issues that Robin Storage seeks to address.
The Robin architecture exists as a layer that sits between the application and the underlying infrastructure. This architecture completely decouples compute resources from storage resources. This allows Robin to automatically create stateful sets and persistent volumes in response to each individual application's needs. Because the storage is decoupled from the compute layer, Robin can create storage snapshots and clones, and provide other storage features such as replication, tiering and storage quality of service.
Scale Computing
Scale Computing markets its HC3 platform for use as an edge infrastructure or as a virtualization platform. While these particular use cases may be relatively common, Scale Computing is noteworthy because of its self-healing capabilities. The system is designed to automatically identify issues and take corrective action without the need for administrative action.
The HC3 platform is designed to be an all-inclusive system, with the company even going so far as to call it a data center in a box. According to the company, the platform can be deployed in less than an hour, and no training is required to manage the system. Additionally, Scale Computing doesn't require its customers to purchase hypervisor licenses or external storage, both of which can quickly drive up the cost of a computing platform.
StorMagic
StorMagic SvSAN is a virtual SAN that's designed to simplify storage provisioning and management. The product is well-suited to organizations that want a simpler and lower-cost alternative to a physical SAN.
SvSAN is appropriate for use in the SMB market, providing highly available storage using only two servers. Although SvSAN can scale to meet the needs of the largest enterprises, it was built specifically for edge, SMB and small data centers.
StorMagic offers hardware-based SvSAN products that are built on hardware from Cisco, Dell EMC, Hewlett Packard Enterprise and Lenovo. As an alternative, the company also provides a software-only product that works on any x86 server and can use any storage.
The dominant HCI vendors
Although there are any number of lesser-known hyper-converged infrastructure vendors to watch in 2020, major companies such as Dell EMC, Nutanix and VMware are likely to continue to dominate the market this year.
According to the IDC Worldwide Quarterly Converged Systems Tracker, the converged infrastructure market grew 3.5% in revenue year over year to $3.75 billion in the third quarter of 2019, with these three vendors leading in revenue, market share and user base.
Dell EMC
Dell EMC continues to offer several different HCI products. The company's VxRail appliances are based on VMware's vSAN technology and are a good fit for VMware shops, as are the company's vSAN Ready Nodes. Dell EMC also offers Ready Nodes for VxFlex and for Microsoft Storage Spaces Direct.
In addition, Dell EMC offers its XC Series appliance, which is based on Nutanix software.
Dell EMC also offers the VxRack System Flex, which is a rack scale system designed for use in heterogeneous environments. The system is based on the use of Dell PowerEdge Servers and Cisco Nexus switches, and is intended to work with VMware vSphere, KVM or Microsoft Hyper-V.
Nutanix
Acropolis Operating System, or AOS, is Nutanix's flagship HCI product and one of the most popular HCI platforms in the industry. Nutanix encourages users to run its proprietary hypervisor, Nutanix Acropolis Hypervisor, or AHV, but the platform also supports VMware, Microsoft or Citrix hypervisors.
Admins can use the Prism tool to manage the entire AOS environment. Prism displays key hypervisor and VM statistics in a simple and intuitive dashboard interface.
The AOS platform centers around Nutanix's own storage product, which makes enterprise class storage available to virtualized workloads. The storage layer enables the use of block, file and object storage. Erasure coding protects data against loss and storage is designed to be self-healing.
VMware
VMware provides a software-based HCI product that comprises four core components. The first component is VMware's vSphere hypervisor, which enables HCI deployment to host VMs.
The second VMware HCI component, vSan, is VMware's storage virtualization product. It enables organizations to combine their storage devices into a storage pool, thereby making it possible to scale storage on an as-needed basis.
The third component of VMware HCI, NSX, is the VMware network virtualization platform organizations can use to connect resources across data center and multi-cloud environments.
Finally, the last VMware HCI component is the vRealize Suite, which is VMware's cloud management system.
The sleeping giant
This category includes large vendors that despite their size, haven't yet been dominant players in the hyper-convergence market. For 2020, only a single vendor falls into this category.
Cisco/Cloudian HyperStore
Cloudian HyperStore is a cloud-scale object storage product. It can achieve exabyte scalability simply by adding nodes. HyperStore supports the S3 API, so it's compatible with Amazon S3 storage. With the addition of a HyperFile NAS controller, HyperStore can be configured to function as an SMB or NFS-based NAS appliance.
Cloudian provides three separate HyperStore products. The HyperStore 1500 series offers up to 168 TB of storage. The HyperStore 4000 series adds dual storage controllers and fully redundant power and cooling and provide up to 980 TB of storage. Cloudian's top-tier appliance is the HyperStore Xtreme, a 4U appliance that can provide up to 1.5 petabytes (PB) of storage.
Although Cloudian HyperStore is probably best known for its use as a storage appliance, Cisco has created an hyper-converged infrastructure reference architecture that's based on HyperStore cluster nodes. As such, it seems plausible that Cloudian storage may be more heavily adopted in the hyper-converged infrastructure market.
The disaggregated crew
This category consists of vendors whose products don't completely align with the definition of hyper-converged infrastructure, yet they compete against more traditional hyper-convergence products. It's worth noting that some of these vendors even include HCI in their names.
Datrium
Datrium claims to have created the first disaggregated hyper-converged product. Unlike traditional hyper-converged infrastructure platforms that mesh together compute, network and storage resources, Datrium's platform consists of a two-layer design with separate tiers for capacity and performance.
The performance tier consists of a series of stateless hosts and a global namespace. This tier is largely hardware-agnostic, but hosts are required to be equipped for flash storage. At least a portion of this storage is used as a read cache.
The capacity tier consists of fully fault tolerant, scale-out data nodes. In addition to storing application data, each data node can accommodate up to 1.2 million VM snapshots, which can be used to perform instant recovery of VMware VMs.
HPE Nimble Storage dHCI
One of the biggest pain points associated with first-generation HCI platforms was that each node typically contained storage, compute and network resources. This meant that increasing storage capacity often required organizations to purchase additional nodes, meaning that the organization was paying for compute and networking resources it didn't need.
HPE has addressed this problem with its Nimble Disaggregated Hyper-converged Infrastructure, or dHCI platform. HPE Nimble dHCI allows admins to scale storage and compute resources independently of one another, thereby helping organizations avoid wasteful IT spending.
HPE Nimble dHCI is built on HPE InfoSight, which provides self-optimization of workloads. According to HPE, the product can be deployed in 15 minutes and delivers six nines of availability.
NetApp HCI
Whereas many hyper-converged infrastructure vendors focus on edge computing or server virtualization, NetApp uses HCI as the basis for its hybrid cloud. While there are any number of hardware platforms that could conceivably be configured to act as the on-premises portion of a hybrid cloud deployment, NetApp HCI takes things a step further.
NetApp provides a control plane that allows for a consistent management experience across clouds. This means admins can use an identical interface and identical procedures, regardless of which cloud they're managing. Administrators can also use a single tool to manage NetApp HCI resources, as well as resources that are hosted within AWS, Google and Microsoft Azure clouds. In addition, the NetApp control plane enables admins to move workloads from one cloud to another on an as-needed basis.
Dig Deeper on Hyper-Converged Vendors and Products