VMware Virtual SAN 5.5
VMware's Virtual SAN shares the bronze medal with Scality's Ring 5.0 in the 2014 Products of the Year storage system software category.
Co-winner for Bronze in the Storage magazine/SearchStorage.com 2014 Products of the Year Storage System Software category.
VMware Virtual SAN 5.5, which debuted in March 2014, pools the capacity of hard disks and flash drives in x86 servers to create a distributed object store for virtual machines. Virtual SAN is embedded in VMware's vSphere kernel and enables granular control of service levels to individual virtual machines through a policy-based approach. The software interoperates with major vSphere features.
"If Virtual SAN [VSAN] fits the use case, it's definitely going to be a game changer," one judge said. "Per-VM storage and policy-based automation are clearly the future of virtualized storage."
Although the 10-member judging panel gave VMware VSAN 5.5 low marks on price, the group rated it tops among the 11 system software finalists in terms of ease of integration and ease of use and manageability. The VMware software also placed fourth in innovation.
One judge called the product "clever and simple," commenting that VSAN solves the storage provisioning and management problem for vSphere administrators. He also noted the use of flash storage to accelerate I/O via caching. VSAN features built-in, server-side read/write caching on enterprise-grade flash technology to minimize storage latency.
Another judge said "with VMware's ecosystem, this could be the storage home run that Microsoft's [Data Protection Manager] DPM should have been nine years ago. The notion of policy-based storage is very compelling here, but there's much more work to be done."
VMware claims VSAN drew more than 300 paying customers in its first quarter of sales. List price for VMware VSAN 5.5 is $2,495 per processor. For virtual desktop infrastructure deployments, Virtual SAN for Desktop is $50 per user as a standalone product. It is included at no additional cost with VMware's Horizon View Suite.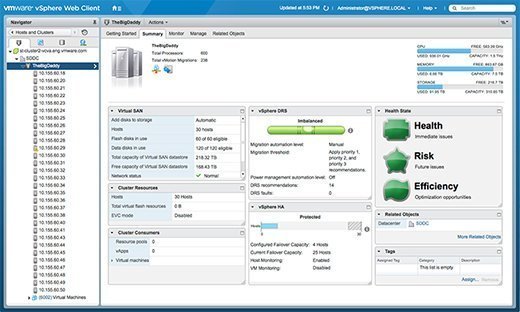 Next Steps
Learn more about VMware VSAN and its foray into the virtualized storage arena