James Thew - Fotolia
Dell EMC VxRail leads college toward 'software-defined everything'
A long search for the right hyper-converged system leads College of the Ozarks to Dell EMC VxRail due to its flash and data deduplication support.
College of the Ozarks IT pro Frankie Youngblood said he realized early that hyper-convergence was the future of...
Continue Reading This Article
Enjoy this article as well as all of our content, including E-Guides, news, tips and more.
data storage and servers. However, it took him more than a year to find a system that met his present needs.
As systems and security administrator for the Christian college in Point Lookout, Mo., Youngblood is part of a six-person IT team that is buttressed by student employees. He had hyper-convergence in his sights when he set out to replace an aging EMC VNX5300 unified SAN array in late 2015.
"I was looking for a hyper-converged system based on where I saw the market was going," he said. "Everything is going software-defined. I thought I might as well get used to it now."
Finding the right hyper-converged fit was difficult. College of the Ozarks now uses a Dell EMC VxRail because of its flash and data deduplication support following a long search that included one purchase that didn't work out.
Youngblood found market leader Nutanix too expensive. "They priced themselves out of the ballgame for us," he said. He deemed VSPEX Blue -- EMC's first attempt at VMware vSAN-based hyper-convergence -- not mature enough for his needs. SimpliVity OmniCube looked promising, and he purchased one in 2016 by packaging the startup's OmniStack software with VMware hypervisors on Cisco Unified Computing System (UCS) servers. That lasted seven months.
"We never got most of our production systems migrated to OmniStack," Youngblood said. "We were not happy with it at all."
Hewlett Packard Enterprise cited SimpliVity OmniStack's data reduction as a key reason it acquired the startup for $650 million in January 2017. But Youngblood said he found SimpliVity's deduplication and replication features lacking.
"Some of the features looked good on paper, but there was a lot of clunkiness to the system," he said. "The deduplication and compression pieces didn't work as advertised. When I created a data store on one machine, the OmniCube didn't replicate properly. There were a lot of disconnects from one node to the next. It was a constant struggle keeping the system functioning. And when I made a support call, I had to figure out if I had the right vendor. We didn't know where to start the conversation."
One more look pays off
Youngblood gave Dell EMC another look, after EMC VxRail launched in 2016 based on vSAN 6.2. After Dell EMC VxRail all-flash appliances hit the market, he purchased 12 nodes with 80 TB of capacity. The VxRail appliances used by College of the Ozarks still have three drive slots per node for expansion.
There is one place I need to go to and point the storage at because it's already defined.

Frankie Youngbloodsystems and security administrator, College of the Ozarks
Youngblood said dedupe was another key selling point for Dell EMC VxRail. VSPEX Blue, based on an earlier version of vSAN, did not support dedupe or flash.
Youngblood said, as the designated storage person on his small IT team, he saved a lot of time from switching from a Fibre Channel VNX SAN to a functioning hyper-converged system.
"I don't have to spend 45 minutes inside a dedicated storage device carving out LUNs or trying to figure out what worldwide name to point the LUNs to," he said. "There is one place I need to go to and point the storage at because it's already defined. I also don't have to go into my UCS management and deploy server profiles for a new blade whenever I need to spin up an appliance. It's all part of the VxRail deployment."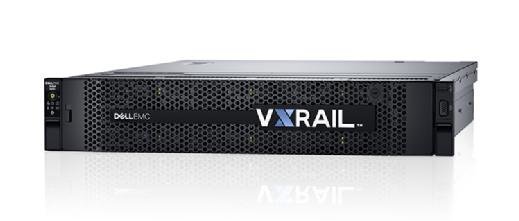 Youngblood said he still uses the same data protection as he had with his VNX: Dell EMC RecoverPoint replication software and Data Domain backup appliances.
He said the time saved with Dell EMC VxRail over a dedicated storage array gives him more time to work on other projects, such as implementing VMware NSX software-defined networking. He said the College of the Ozarks has already purchased NSX and will be adding it soon.
"Software-defined everything," he said. "That's the way it's going to be."
Dig Deeper on Hyper-Converged Infrastructure Management