VMware vSAN 6.6 adds encryption, analytics, 'nothing shocking'
As hyper-convergence matures, VMware bulks up vSAN 6.6 release with native encryption, analytics and improved availability, performance and management.
VMware added software-based encryption and cloud analytics to its vSAN hyper-converged software in the first vSAN...
Continue Reading This Article
Enjoy this article as well as all of our content, including E-Guides, news, tips and more.
release not tied to a major vSphere platform rollout.
VMware vSAN 6.6, which launched Tuesday, includes data at-rest encryption that works on any hardware certified to run the software. Customers of earlier vSAN versions required self-encrypted hard drives for encryption. VMware claims the software encryption works with all Key Management Interoperability Protocol-compliant key managers and uses a cluster-wide key. The encryption works across deduplicated and compressed data. Encryption will be included only in the vSAN Enterprise edition.
The analytics provide real-time notifications and recommendations to help customers improve performance. VMware claims the analytics run in real time with no customer interaction required.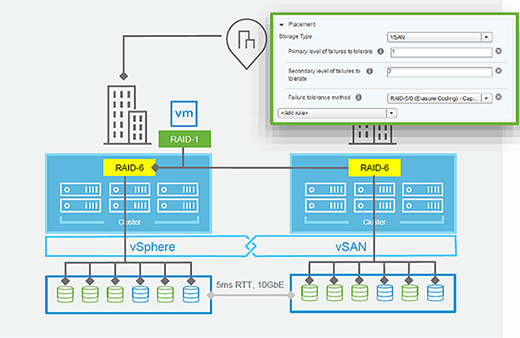 VMware also enhanced stretch cluster support in vSAN 6.6, adding the ability to provide local protection for site and component failures, site affinity and one-click witness changes. Other VMware vSAN 6.6 additions include one-click installation, improved performance for all-flash systems, optimized checksum and deduplication, and support for 1.6 TB flash drives and Intel Optane SSDs.
VSAN now all grown up
"I would consider vSAN now to be an adult member of hyper-convergence," said Arun Taneja, consulting analyst at Taneja Group. "It was lagging behind for quite some time. It needed some growing up. The new features in this release let VMware compete across the board. They don't have to say, 'We don't have that feature yet, but will have it in the future.'"
I would consider vSAN now to be an adult member of hyper-convergence.

Arun Tanejaconsulting analyst, Taneja Group
VMware has sold vSAN hyper-converged software since 2014, but has made a flurry of releases in the past year or so to add enterprise-grade features. Like other hyper-converged vendors, VMware recognizes moving beyond virtual desktop infrastructure (VDI) and remote office implementations requires features such as flash support, data compression, cloud-based analytics and security.
Michael Haag, group manager for VMware storage and availability product marketing, admitted that in early versions of vSAN, "we were getting our feet wet. A year ago [version 6.2], we started to see vSAN adopted in the mainstream."
VMware reported a spike in vSAN customers after version 6.2 launched with data deduplication, quality of service, erasure coding and other features that made it more flash-friendly. The all-flash storage trend found its way to hyper-convergence in 2016, and analysts expect all-flash use to increase this year and beyond.
Haag attributed that to the falling price of flash drives.
"We're seeing a rapid shift to all-flash," Haag said. "There are very few situations where hybrid systems still make sense anymore."
Customer: vSAN 6.6 a 'natural progression'
Kevin Hodges, client services system administrator at the University of South Carolina Upstate, uses vSAN on all-flash Cisco UCS servers solely for VDI. He said he turned to vSAN after switching SAN arrays three times for his VDI without getting satisfactory results. After testing earlier versions of vSAN, Hodges said he replaced his SAN with vSAN 6.2. He evaluated Nutanix, but found it too expensive, especially when he already had the server hardware he needed to run vSAN. The college's hyper-converged infrastructure includes nine Cisco UCS nodes for more than 1,000 virtual desktops.
The University of South Carolina Upstate currently runs vSAN 6.5, but Hodges said he plans to upgrade to 6.6 at the end of the semester.
"This is the natural progression of the product," Hodges said of vSAN 6.6. "Nothing shocking."
He said he welcomes native encryption because the university handles credit card transactions and has to meet state compliance requirements.
"The state is getting more strenuous about security requirements, so this will help us meet them," Hodges said.
Hodges said he is also looking forward to improved performance and better dedupe ratios promised in the new release. He likes the idea of one-click upgrades.
"That's a progression you expect over time, but it sure is nice," he said. "It's a pain [when] you're trying to update nine hosts and keep them all compliant."
Hyper-convergence heads for private clouds
VMware touted encryption and cloud-based analytics at VMworld 2016 last August, but those features were missing when it launched vSAN 6.5 in late 2016. The 6.5 release focused on features and licensing changes that made it easier to use in all-flash nodes and remote offices.
Eric Sheppard, a research director for storage at IDC, agrees with Hodges that there's nothing shocking in the 6.6 features, but said "this long list of new features is important as hyper-convergence moves to a new phase" with enterprises evaluating it.
"There are times when hyper-converged deployments are replacing traditional three-tier SANs," he said. "For hyper-converged to have maximum impact, vendors have to constantly increase their features to get closer to traditional storage products. They want to convince enterprises that had thought about hyper-convergence, but hadn't seen all the features they wanted, that now is the time to deploy it."
With 6.6, VMware is also separating its vSAN release cycle from that of vSphere. Instead of waiting for the next vSphere rollout, VMware is delivering vSAN 6.6 as a patch release.
"If there's a key feature we want to push out, we can do so on our own timeframe," VMware's Haag said.
Haag said the encryption and improved performance opens the door for hyper-converged systems to be used for big data, write-intensive analytics and stream applications.
Haag said VMware vSAN 6.6 is expected to become generally available next week.
Taneja said VMware and its main hyper-converged rival Nutanix are roughly on par in features. He gives VMware the advantage for customers who are VMware-only hypervisor shops, while Nutanix has the edge for multi-hypervisor implementations. Nutanix supports Microsoft Hyper-V and its own open source Acropolis Hypervisor in addition to VMware hypervisors.
Taneja said the race is on now for hyper-converged infrastructure vendors to turn their products into private cloud building blocks. He said hyper-convergence lends itself to cloud because it places compute, storage, virtualization, and eventually, networking, in one box.
"The holy grail is to give me a cloud-like experience," he said. "There's no doubt in my mind that customers prefer that to be built on hyper-converged infrastructure."
Dig Deeper on Hyper-Converged Infrastructure Management