kentoh - Fotolia
Pivot3 Acuity combines QoS, NVMe flash from NexGen
Pivot3's new Acuity brings together quality of service and NVMe flash from NexGen Storage, as well as data services from Pivot3 into a hyper-converged infrastructure platform.
Pivot3 is ready to ship Acuity, its new hyper-converged infrastructure platform that integrates quality of service and NVMe PCIe flash technology acquired from NexGen Storage in 2016.
The Pivot3 Acuity software disclosed today allows users to set policies that provide more resources for higher-priority applications. Pivot3 CEO Ron Nash said Acuity also manages the way data is written to take greater advantage of NVMe flash in hyper-converged systems, which combine storage, compute and virtualization in one chassis. The Pivot3 Acuity software ships on a new X-Series hardware platform, which includes two all-flash and two hybrid node configurations.
Pivot3 Acuity systems are scheduled for general availability in late June or early July.
Pivot3 acquired NexGen in January 2016 for its quality of service (QoS) and NVMe technologies. Pivot3 incorporated parts of NexGen's QoS last year, but Acuity includes all of NexGen's QoS and combines data services from both vendors.
Nash said Acuity represents the vision he and NexGen CEO John Spiers shared during their first meeting to discuss an acquisition in late 2015.
We're bringing home the benefits of what we did more than a year ago with our NexGen acquisition.

Ron NashCEO, Pivot3
"We're bringing home the benefits of what we did more than a year ago with our NexGen acquisition," Nash said. "John and I drew this out on napkins during our first meeting."
Nash said QoS and NVMe's low latency will make the new systems a good fit for enterprises. He is counting on customers spending more for better performance with Acuity, which will compete against hyper-converged products from the industry's largest server vendors.
Pivot3 first launched as a storage vendor for video surveillance systems in 2007 before adding hyper-converged systems for virtual desktop infrastructure (VDI). The vendor has aimed for the enterprise since 2014, which meant allowing customers to run multiple workloads on a cluster. Nash said 2016 marked the first year the majority of new customers ran more than one workload on Pivot3 systems.
Range of Pivot3 Acuity models offered
The Pivot3 Acuity X5-6000 is a flash node, with 3.2 TB, 6.4 TB, 12.8 TB or 30.7 TB solid-state drives (SSDs). The Acuity X5-6500 is a flash acceleration node, which is identical to the X5-6000, with 1.6 TB of NVMe flash added.
The Pivot3 Acuity X5-2000 hybrid node holds 12 TB, 24 TB, 48 TB or 96 TB of HDD capacity and an 800 GB SSD as cache. The Acuity X5-2500 hybrid acceleration node is the same as the X5-2000, with 1.6 TB or 3.2 TB of NVMe flash. All models use dual 18 Core Intel E5-2695 v4 processors. The Acuity X5-2000 and X5-2500 scale to 12 nodes, and the X5-6000 and X5-6500 scale to 16 nodes in a cluster.
Pivot3 did not disclose pricing, but Nash said Acuity is priced higher than its current vSTAC systems due to higher performance and the addition of NVMe cards.
Pivot3 Acuity's QoS allows administrators to aggregate levels of capacity, IOPS, bandwidth and cache across resource pools on a per-virtual-machine or data-store basis. Performance QoS includes five preset policies for each workload. Policy changes can be automatically scheduled for cyclical workloads. Data protection QoS policies let users schedule snapshots.
The NVMe PCIe flash improves response times, which can be especially handy for running databases, business analytics and VDI. Pivot3 claims the NVMe flash also allows the Acuity boxes to run two or three times as many virtual machines per node than its vSTAC systems.
Pivot3 Acuity software includes erasure coding, snapshots, clones, thin provisioning, data deduplication and compression.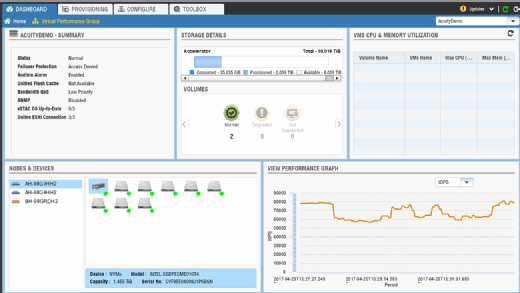 How to use Acuity now and what's to come
Nash said another Pivot3 Acuity version with more storage services will follow in early 2018, followed by a third version adding higher performance and scale for large-capacity video surveillance systems.
Philip Lisk, director of IT for the Bergen County Sheriff's Office in Hackensack, N.J., said he has already ordered Acuity X5-6500 all-flash nodes to supplement his 30 vSTAC hyper-converged systems for VDI and video surveillance storage. Lisk said he will move Oracle and Microsoft SQL Server databases off Hewlett Packard Enterprise 3PAR StoreServ arrays to Acuity.
"I can see tremendous benefits, especially with databases that are being constantly bombarded," he said. "This will make our user experience better. I expect to see a noticeable increase in speed and performance. As the 3PAR arrays age out, we'll move away from traditional attached storage into all hyper-converged infrastructure."
Nash said because Acuity reads data in a different way than vSTAC does, current Pivot3 customers would have to manually migrate data between platforms.
"We can rescue and reuse data, but you have to add NVMe hardware and go through a migration to move data," he said. "This is not a point upgrade, where you upgrade the software and it automatically migrates. This is a delicate upgrade. We'll offer professional services to help manage the [migration] project."
Lisk said he expects to eventually replace all of his Pivot3 vSTAC systems with Acuity boxes, but in the meantime, he will try and find a way to get the systems to work together.
"We're still working on details of how we're going to move it over and replicate it out," he said. "Most likely, we'll do snapshots and move them off. It won't be real time."
Pivot3 vs. the HCI market
While Pivot3 was transitioning to the enterprise, the hyper-converged market was also undergoing great change over the past year. Hyper-converged pioneer Nutanix became a public company. HPE acquired SimpliVity, another early hyper-converged player. Dell EMC launched its VxRail hyper-converged system in 2016 based on vSAN software from VMware, which Dell also owns. Cisco launched its branded HyperFlex hyper-converged system, and Lenovo moved into hyper-convergence through partnerships with Nutanix and others.
That leaves Pivot3 battling market leaders Nutanix and VMware, as well as the industry's server giants. Tim Stammers, senior analyst for 451 Research, said Pivot3's early success in video surveillance can help it compete while ramping up Acuity.
"The biggest challenge for Pivot3 is they're still coming in behind VMware and Nutanix," he said. "They could be also-rans, but they have some big advantages. They're riding the surveillance business, and that never seems to shrink. The surveillance business can fund the move into the enterprise."
Stammers said Pivot3's QoS is unique among hyper-converged vendors.
"QoS is a blurry term, but this is sophisticated QoS," he said of Pivot3 Acuity. "QoS is not just about capping throughput and IOPS. It's about sharing resources intelligently when there isn't enough to go around. Pivot3 measures throughput, latency and IOPS, and they have five preset levels, so you don't have to know what you're doing. NexGen was ahead of everyone else in QoS, and that should help Pivot3."
NexGen developed sophisticated QoS before its 2011 launch, using it with PCIe flash storage. PCIe flash pioneer Fusion-io acquired NexGen in 2013, but SanDisk spun NexGen back out after acquiring Fusion-io in 2014.
Dig Deeper on Hyper-Converged Infrastructure Systems