3dmentat - Fotolia
Datrium DVX to support Red Hat Virtualization, containers
Datrium will expand its DVX system beyond VMware environments to offer storage options for Red Hat Virtualization, KVM on CentOS Linux and Docker containers on bare-metal servers.
Datrium Inc. plans to expand beyond VMware virtualization and provide new storage options for Red Hat Virtualization, KVM hypervisors on CentOS Linux and Docker containers on bare-metal servers.
The Sunnyvale, Calif., startup's DVX system, which began shipping in February 2016, is designed to speed data access through server-based flash cache and scale storage capacity through disk-based back-end appliances. The Datrium DVX Software runs on the compute and storage nodes, and it combines a distributed file system and storage features, such as data deduplication and compression.
Customers can bring their own SSD-equipped servers and purchase the DVX Software and DVX Data Nodes. Or, they can buy a turnkey Datrium DVX Rackscale system that combines the software, flash-infused x86 compute nodes and disk-based storage appliances.
Datrium originally developed DVX strictly for VMware virtual machines (VMs), with storage management through VMware vCenter. The DVX Software 3.0 release, due next month, will expand support. It will work with Red Hat Virtualization, including Red Hat Enterprise Linux (RHEL), open source KVM and a management console; KVM running on CentOS Linux with open source oVirt for management; and stateful Docker containers running on bare-metal RHEL or CentOS servers, or in KVM or vSphere VMs.
Mixed hypervisor support
The DVX Software 3.0 release will enable customers to run VMware, Red Hat Virtualization and Docker containers on the same Datrium system with a single management view. Customers also can use the vSphere Docker Volume Plugin to run Docker containers in VMware VMs.
"Many folks with big VMware environments are now finding that due to containerized applications, and maybe some desktop virtualization, big data and other open source projects, that they now also have serious KVM support needs in production," Mike Matchett, a senior analyst and consultant at Taneja Group Inc. in Hopkinton, Mass., wrote via an email.
Containers are, by nature, ephemeral. When they go, the data goes with them.

Tushar Agrawalprincipal product manager, Datrium
Eric Burgener, a storage research director at IDC, said the DVX Software 3.0's support for mixed hypervisors, including open source options, would hold appeal for service providers and other organizations that don't want to pay for VMware.
Tushar Agrawal, a principal product manager at Datrium, said Datrium's Docker volume plug-in creates API linkages to the Docker engine running on the hosts. It enables customers to use Docker command-line interfaces to create a volume, clone a volume and attach volumes to containers running on one or more host servers. The plan is to provide persistent data on containers.
"Containers are, by nature, ephemeral. When they go, the data goes with them. Volumes provide an ability to make that data persist and to add all of the data management, performance, and data efficiency capabilities to container storage," Agrawal said.
Alternative to hyper-convergence
Burgener said he views the Datrium architecture as an alternative to hyper-converged infrastructure (HCI), because it can scale compute and storage independently and withstand compute failures without impact to the storage. He said Datrium's support for containers and bare-metal deployments would also help Datrium to stand out against most HCI players.
HCI leader Nutanix supports mixed hypervisors, but popular alternatives such as Dell EMC's VxRail and VMware's vSAN support only VMware. Red Hat's new open source hyper-converged option supports KVM and targets remote and branch offices.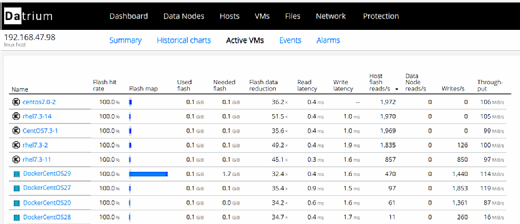 The list price for Datrium DVX Software 3.0 is $12,000 per compute node. Datrium qualified the software for RHEL 7.3, CentOS 7 1611 and Docker version 1.2. Each DVX Compute Node supports up to 16 TB of raw flash capacity. The host side can scale up to 32 compute nodes per DVX Data Node.
The Datrium DVX Software enterprise storage capabilities include erasure coding, replication, granular snapshots, clones and encryption of data in use, at rest and in flight.
Datrium DVX provides only on-premises storage today, but the company has already disclosed plans to add support in 2018 for elastic replication of encrypted data to Amazon Web Services for archival purposes.
Dig Deeper on Converged Infrastructure Implementation