Sergey Nivens - Fotolia
NetApp HCI launches at subdued user show
NetApp rolls out HCI based on the SolidFire flash array, consisting of two VMware compute nodes and two SolidFire storage nodes, at abbreviated user conference.
LAS VEGAS -- NetApp on Wednesday displayed the centerpiece of its annual user conference, the NetApp HCI platform...
Continue Reading This Article
Enjoy this article as well as all of our content, including E-Guides, news, tips and more.
built on SolidFire all-flash arrays, launching its long-delayed foray into hyper-convergence.
The hyper-converged infrastructure (HCI) appliance was supposed to be the highlight of the NetApp Insight user conference at Mandalay Bay Resort and Casino, although the mood was decidedly subdued in light of the mass shooting that took place here earlier this week.
"For us, this announcement is just to let everyone know that the product is out on the market," said Aaron Delp, director of marketing for NetApp emerging technologies.
Delp said early access customers have placed orders for the system, but he declined to disclose how many or who they were. He said NetApp will start shipping the HCI gear toward the end of October. Product specs have been available since June.
As with its entry in all-flash storage, NetApp is several years late to the HCI market and has ceded territory to Dell EMC, Nutanix, Hewlett Packard Enterprise and other rivals. Even longtime NetApp FlexPod partner Cisco last year unveiled HyperFlex HCI, based on file-system and fabric technology it developed with Springpath.
"This is NetApp's declaration that it has an HCI solution. HCI has reached the point where customers are starting to issue requests from vendors. Not having an HCI product was becoming a problem for NetApp," said Howard Marks, chief scientist and founder of DeepStorage, a storage advisory and testing firm in Hoboken, N.J.
"I think this is more of a defensive move than NetApp playing offense. I don't think it's going to be a huge source of net-new customers for NetApp," Marks added.
Is NetApp selling CI or HCI? Does it matter?
NetApp HCI integrates the first version of the SolidFire Element OS to be fully developed by NetApp after it acquired SolidFire in 2015. This marks version 10 of Element OS, and NetApp is continuing SolidFire's tradition of naming upgrades according to the periodic table. This version is called Element Neon.
Not having an HCI product was becoming a problem for NetApp.

Howard Marksfounder, DeepStorage
John Rollason, a NetApp senior director of products and solutions marketing for next-generation infrastructure, said the vendor wants to make it easy for customers to install, manage and scale the product.
"There is an absolute shift in the market of people moving away from as much of the [manual] configuration as possible. They want a simple and programmable infrastructure," Rollason said.
This will be NetApp's first stab at hyper-convergence. It was among the vendors to announce a hyper-converged product based on VMware's short-lived EVO:RAIL partner program in 2014. But NetApp never brought that product to market.
The NetApp HCI appliance expands its use case for SolidFire SF-Series storage arrays. NetApp continues to sell SolidFire SF-Series arrays as a separate storage product from its FAS and EF-Series all-flash systems.
SolidFire flash storage modules also are offered as an option in NetApp's FlexPod converged infrastructure. The NetApp FlexPod SF combines SolidFire storage with Cisco servers.
NetApp HCI combines SolidFire SF storage arrays, Element Neon scale-out block software and a NetApp-designed compute server. It does not run storage through a hypervisor, which is a hallmark of most HCI platforms. NetApp HCI requires four nodes to start, but Element OS allows compute and storage nodes to be added individually. A base building block consists of two SolidFire storage nodes running Element OS and two compute nodes for VMware vSphere. Two open bays allow for linear scaling of compute or storage independently with Element OS, which is written natively for quality of service.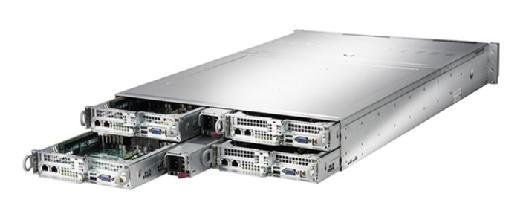 Element Neon integrates with NetApp Data Fabric, OnTap features
Compute and storage nodes come in small, medium and large sizes. NetApp HCI storage nodes provide 2.8 TB, 5.8 TB and 11.4 TB of raw storage. Compute nodes range from a small of 16 cores and 256 GB of RAM, medium sizes with 24 cores and 512 GB of memory to large versions with 36 cores and 768 GB of memory.
Element Neon is integrated with NetApp Data Fabric features and capabilities. These include replication of SnapMirror snapshots between Element and Data OnTap operating systems and the ability to back up data from SolidFire to NetApp AltaVault backup appliances and StorageGRID object stores. VMware ESXi and vCenter virtualization management come preinstalled with a NetApp SolidFire vCenter plug-in.
New software in the NetApp HCI stack includes the Intuitive Deployment Engine and Active IQ cloud-based analytics.
"From a scaling point of view, we think that's one of the big differentiators we have. You can scale compute and storage independently and don't get the HCI tax that is common with first-generation platforms. As you scale nodes, you get all of their capabilities," Rollason said.
The challenge now for NetApp is closing the gap with competitors. Marks said NetApp would have led the market had it been two years earlier with its HCI product. "Now, they have to fighting a battle against someone who's already taken Pork Chop Hill," Marks said.
According to IDC research, Dell EMC passed Nutanix as the HCI market leader in the second quarter of 2017. IDC put the total HCI market at $763.4 million for the second quarter.