kras99 - Fotolia
Comtrade upgrades HYCU Nutanix AHV backup software
Comtrade Software improves the performance of its HYCU backup application that protects virtual machines running on hyper-converged vendor Nutanix's AHV hypervisor.
Comtrade Software has updated its HYCU backup software for Nutanix AHV virtual machines, trying to gain a foothold...
Continue Reading This Article
Enjoy this article as well as all of our content, including E-Guides, news, tips and more.
as other vendors offer protection for the open source hypervisor.
Comtrade launched HYCU in June, making it the only application dedicated to Nutanix AHV backup. The KVM-based hypervisor ships as part of Nutanix's hyper-converged software stack. Now, Comtrade has released version 1.5, increasing support for Nutanix storage, as well as adding backup management features.
Since HYCU launched, Veeam Software, Rubrik, Cohesity and Unitrends have pledged to add Nutanix AHV backup. Nutanix pitches AHV, or Acropolis Hypervisor, as a free alternative to market-leader VMware's hypervisors. Nutanix claims more than a quarter of its hyper-converged nodes run AHV.
Comtrade President Simon Taylor said the competition proves there is a need for Nutanix AHV backup.
"Every time another company says the market is moving toward free hypervisors and getting rid of the VMware tax, I think it's great," Taylor said. "Coming out first has really helped us in the market, but it now it comes down to the merit of the products."
HYCU 1.5 includes two new, notable Nutanix-specific features. It lets users keep snapshots from multiple backups on a Nutanix cluster, so they can quickly recover virtual machines or applications. It also enables a Nutanix volume group and iSCSI storage to serve as backup targets.
Using Nutanix volume groups for backup and restores lets users tie into Nutanix's load balancing to distribute workloads between nodes. That makes for faster backups and restores, while reducing I/O load on the Nutanix cluster.
Other enhancements include the ability to schedule Nutanix AHV backup jobs at nonpeak hours, specify the number of concurrent backup jobs per target and manually expire backups to remove them from the backup target.
HYCU 1.5 also supports Amazon Web Services' Simple Storage Service API-compatible storage, and it detects and protects Microsoft Application Directory apps running on virtual machines.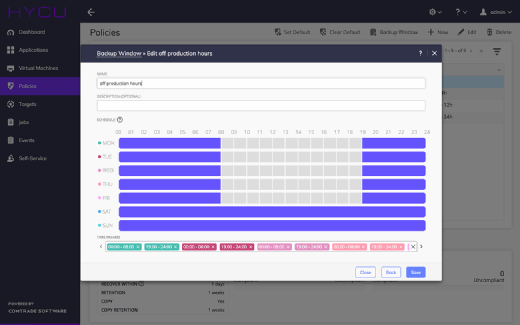 Jose Bellas, director of IT at University Health Care (UHC) in Doral, Fla., said he has been a HYCU beta user since June and is preparing to license the software with version 1.5.
Bellas said UHC installed Nutanix HCI appliances in December 2016. He noted he used AHV from the start, and runs all of the center's production and mission-critical applications on it.
We felt we didn't lose anything with AHV, and we don't have to pay licensing fees.

Jose Bellasdirector of IT, University Health Care
"We walked away from VMware [for production data]," Bellas said. "We maintain it on older servers, just for development and other things that may come up. We felt we didn't lose anything with AHV, and we don't have to pay licensing fees. AHV is included in the price with every Nutanix node."
The healthcare network has a three-node Nutanix cluster with 28 virtual machines. Bellas said UHC is building a new primary data center, and it will add a second three-node Nutanix cluster at a disaster recovery site after the new data center is ready.
He said the ability to easily scale was among the reasons he picked Nutanix. "We could have a growth spurt at any moment," he said of his organization. "We like Nutanix's scalability and the ability to deliver nodes quickly."
Before switching to Nutanix, UHC used EMC VNX storage and Hewlett Packard Enterprise ProLiant servers.
Bellas said he is shopping for a backup target now that it's "time to take the plunge" and license HYCU software with the new features.
He said he also looked at Rubrik Cloud Data Management converged appliances for Nutanix AHV backup. But while Rubrik also supports AHV, its software is integrated on an appliance and would have cost UHC more upfront.
"Rubrik is an appliance that only runs Rubrik software," he said. "So, you must purchase the appliance first."
Dig Deeper on Hyper-Converged Infrastructure Systems