Sergey Nivens - Fotolia
Datrium storage system injects flash into the equation
Software-defined Datrium DVX storage is mostly used with standard servers. New Compute Nodes and Data Nodes with end-to-end flash expand on proprietary hardware launched in April.
Datrium storage has expanded into all-flash compute and data servers to complement its disk-based converged appliances. But the vendor is not selling an all-flash array.
The new Datrium hardware includes the all-flash F12X2 Data Node and Intel Skylake-based CN2100 Compute Nodes that support nonvolatile memory express (NVMe) flash. Datrium said an all-flash F2X12 cluster scales to 500 TB of effective capacity with DVX inline compression.
Datrium also unveiled the next generation of its disk-based Data Nodes. The D12X4B storage nodes can be clustered for up to 1 PB of effective capacity. CN2100 servers work with both flash and disk Data Nodes.
Datrium launched in 2015 with DVX software-defined storage for server-side flash. Datrium strips out durable storage from compute nodes, but keeps data services in the server. The Datrium Compute node captures a write in host-based flash and mirrors a copy to nonvolatile RAM in Datrium Data Nodes. Each DVX host in a cluster can access shared storage on DVX Data Nodes.
The system has always captured writes in flash, but the earlier Datrium DVX nodes used only disk for storage. Craig Nunes, Datrium's vice president of marketing, said the new models extend flash to backup and secondary storage. Those workloads traditionally are associated with spinning disk.
"We've talked to a number of customers that are very interested in shifting their data centers to an all-flash infrastructure. People are already moving down that path from a primary storage perspective, but we've talked to folks who want to move anything stored locally to flash. Then they [plan to] replicate to disk or cloud for long-term retention," Nunes said.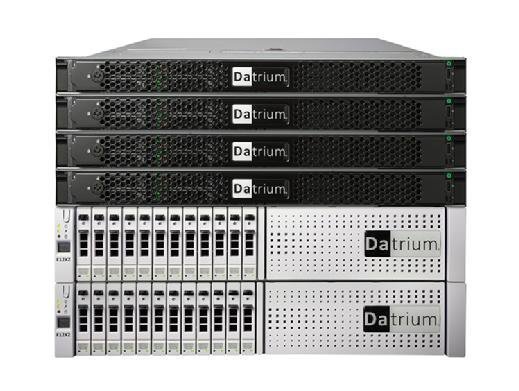 Datrium flash hosts allow shared storage on back end
Datrium bills DVX as open convergence and describes it as an alternative to hyper-converged infrastructure (HCI) that packages compute, network, storage and virtualization resources in a single appliance. Clustered HCI systems replicate durable storage between nodes for data protection.
Datrium is designed to avoid host-to-host communications that can limit the scalability of an all-flash array. Compute and data nodes communicate directly via Gigabit Ethernet and scale independently. The stateless hosts boost resilience and reduce maintenance. Each DVX host in a cluster has access to shared storage in the Datrium Data Nodes.
In addition to separating compute and storage, the DVX storage system comes with dedicated archive servers and a searchable backup catalog that supports 1.2 million snapshots and cloud-based archiving.
We believe flash belongs in the host, close to the application workloads.

Craig Nunesvice president of marketing, Datrium
Datrium DVX software splits I/O provisioning between proprietary DVX Compute Nodes and DVX Data Nodes it uses as back-end storage. Reads never leave the host. Data servers retain the authoritative copy of data to serve applications should a flash host malfunction.
A typical starting Datrium configuration includes four to six flash-based compute nodes and at least one data node. The vendor claims DVX is designed to withstand the failure of all SSDs as long as one attached host still functions. The latest hardware extends flash from front-end compute to Datrium storage nodes.
"We believe flash belongs in the host, close to the application workloads. Therefore we eliminate the network latency associated with an all-flash array. Our read performance is often a fraction of what you would see with an all-flash array," Nunes said.
DVX helps public utility tame 'SQL sprawl'
Datrium began selling DVX software-designed storage for installation on standard servers, using its branded disk shelf for back end to persistence. Datrium-branded turnkey appliances were rolled out in April for enterprises seeking to consolidate mixed workloads.
The San Francisco Public Utilities Commission was an early beta customer, purchased and installed Datrium for its Microsoft SQL Server database storage, said Brad Taylor, a technical operations manager at the public utility. He has since expanded its use to his virtual desktop infrastructure (VDI) and other types of primary storage.
"We had SQL Server sprawl to the tune of about 120 instances. The licensing tab would have been about $1 million. Datrium gave us a way to license by CPU socket and consolidate all 120 instances onto three physical hosts," Taylor said.
Before adding Datrium storage, Taylor considered adding all-flash from several vendors, but the priced was beyond his budget. "I tell people that Datrium gave us all-flash performance for the price of spinning disk," he said.
All-flash Datrium nodes target highly intensive write workloads. Listed use cases include big data analytics, thousands of virtual desktops and Oracle RAC environments.
Dig Deeper on Converged Infrastructure Implementation