Share this item with your network:
Managing and protecting all enterprise data

alphaspirit - Fotolia
Competitive market pushes converged infrastructure vendors forward
Competition among converged infrastructure vendors will lead to winners and losers, but the biggest winner of all will be customers.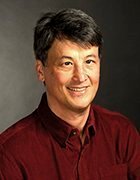 By
To gather data and insights about the converged and hyper-converged infrastructure markets, Taneja Group initiated a primary research study called "All Things Convergence" earlier this year. It surveyed 600-plus IT decision makers and practitioners across the globe, representing a wide range of industries and business sizes to get to the bottom of current and planned deployments of converged infrastructure vendors.
The study examined awareness, adoption and preferences concerning on-premises CI and HCI versus various traditional architectures. The group then conducted in-depth phone interviews with a subset of respondents to learn more about the "hows" and "whys" driving purchase, deployment and use.
Here are a few highlights that demonstrate why the future is bright for converged infrastructure vendors.
Preferred architectures for the future
One of the key questions Taneja Group asked was, "Which architecture is the preferred vision for your data center going forward?" The result: 55% of IT practitioners preferred CI and HCI over all other architectures. What should be most concerning to market-leading vendors is that only 31% of respondents chose either traditional architecture or using a software-defined DIY approach on commodity servers.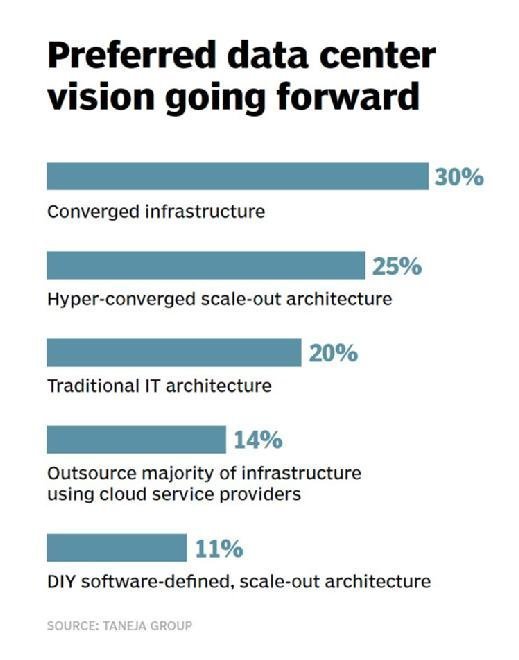 The problem with traditional, DIY
It's has become very apparent that there is a sense of "DIY fatigue" within the IT community. Once exposed to a converged approach, customers tend not to return to the old way. When asked a common set of questions describing typical architecture attributes that respondents would ascribe to each architecture (both likes and dislikes), what was most striking was the sheer number of "dislikes" ascribed to building out traditional and -- to a lesser extent -- DIY software-only infrastructures. Multivendor support, high operating and deployment costs as well as complexity, manageability and scalability led the dislikes.
HCI and CI: Why so popular?
While both popular, CI was almost twice as likely to be currently deployed versus HCI (65% to 36%, respectively) as compared to traditional infrastructure (94%). And while CI and HCI both earned high marks for simplified administration, pre-engineered and certified solutions and simplified support experience, HCI displayed a significant advantage in ease of use and modular scalability over other architectures -- while converged and traditional include compute layers, hyper-converged takes a software-defined approach to collapse storage, hypervisor and compute onto commodity servers. When posed the question of whether HCI will eclipse CI as the preferred architecture by the end of 2018, 68% indicated HCI would, while only 32% of respondents disagreed. This is startling when you consider how recently the HCI market emerged.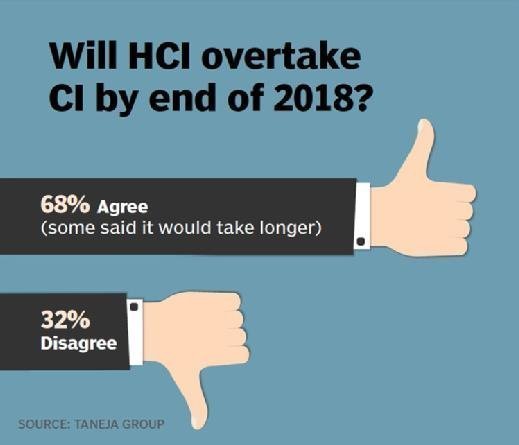 What's next for convergence?
Although traditional CI was the original convergence architecture, HCI is currently getting much more attention and investment. This is no accident. Vendors have been furiously engineering solutions to make on-premises infrastructure as cost-effective and easy to use as public cloud alternatives, while maintaining the required reliability, availability and flexibility enterprises crave. There's a great chance HCI's flexible, modular and software-defined scale-out architecture will make on-premises infrastructure even more cost-effective than public cloud for many IT workloads.
Convergence on the rise
At the beginning of this decade, the initial converged infrastructure (CI) market consisted primarily of VCE Vblock (now part of Dell EMC), HP Converged Systems (now HPE) and FlexPod (NetApp and Cisco). The $10 billion-plus industry now includes numerous vendors delivering a variety of products with architectural approaches capable of satisfying almost every IT workload.
Within a few years of the advent of CI, a new category of converged products emerged. Coined hyper-converged by Taneja Group, these products enhanced CI by collapsing storage, compute and hypervisor onto commodity computers using a software defined approach. The hyper-converged infrastructure (HCI) portion of the convergence market is growing by an order of magnitude faster (greater than 100% per year) than the general converged market, and now represents more than 10% of a $10 billion-plus market. This rapid growth has made HCI the darling category of the industry.
Early HCI pioneers included Nutanix, Pivot3, Scale Computing and SimpliVity, among others. Fast forward to today and you'll find that every major system vendor boasts HCI products, typically coexisting alongside CI and traditional counterparts.
Here's where some leading converged infrastructure vendors are headed:
Hewlett Packard Enterprise (HPE) is investing in "composable infrastructure," mainly with its Synergy product. This allows flexible amounts of compute, network and dedicated storage to be constructed and deconstructed through one API call covering the entire data center for traditional, CI and HCI architectures. The composability API approach will include 3PAR storage and ProLiant servers as well. HPE is also doubling down on its own software-based StoreVirtual technology to create a full-featured composable data fabric as a foundational data services layer to its composable infrastructure.
HyperGrid (formally Gridstore) will focus on subscription-based HCI as a service. The company will also use technology from its DCHQ acquisition to offer full application lifecycle management -- initially concentrating on helping IT transition traditional applications to container-compatible applications that run in any environment. HyperGrid will also offer heterogeneous hypervisor choice.
Nutanix is building on its original HCI offerings to become an enterprise cloud infrastructure vendor. The company is investing in its own hypervisor and building-in application mobility between various hypervisor environments, including public cloud. The goal is to make the entire infrastructure layer (seemingly) invisible.
Pivot3 acquired NexGen earlier this year and is focused on making a HCI that can better meet mission-critical mixed workloads by using advanced quality of service technology, low latency server-side flash and highly efficient data services.
Riverbed offers hybrid hyper-converged products focused on solving critical enterprise remote/branch office requirements. These edge products solve distributed management and storage issues crippling the staffing and budget issues that often limit this type of deployment.
SimpliVity is focusing on building market-leading data services under a customer's hypervisor of choice. Using an architecture that minimizes data redundancy at ingest, the goal is to minimize all copies of data and enable nearly unlimited snapshots, built-in data protection and business continuity through the global WAN-optimized distribution of HCI systems.
VMware is investing in a new unified software-defined data center (SDDC) platform called VMware Cloud Foundation. The SDDC platform brings together VMware's compute, storage and network virtualization into a natively integrated stack, delivering enterprise-ready cloud infrastructure, with unique automation and management capabilities for simplified operations, that is consistent across private and public clouds. Dell EMC will offer a fully integrated hardware/software version of this product under its VxRail brand.
Near the tipping point
This small sampling exemplifies the diversity of approaches -- along with the massive amount of investment -- among converged infrastructure vendors. I believe we are very close to a tipping point where breakthroughs in the total cost of ownership of on-premises infrastructure based on convergence will soon stem the tide of the recent shift toward public clouds.
It is an exciting time to be in convergence. And while there will be many winners and losers among converged infrastructure vendors, the biggest winners of all will be customers.
About the author:
Jeff Kato is a senior storage analyst at Taneja Group with a focus on converged and hyper-converged infrastructure and primary storage.
Next Steps
A closer look at the converged vendor marketplace
Examine converged infrastructure market offerings
Many approaches to converged infrastructure products
Dig Deeper on Converged Infrastructure Vendors