In general, convergence is a coming together of two or more distinct entities or phenomena. Convergence is increasingly prevalent in the IT world; in this context the term refers to the combination of two or more different technologies in a single device. Taking pictures with a cell phone and surfing the Web on a television are two of the most common examples of this trend.

Download this free guide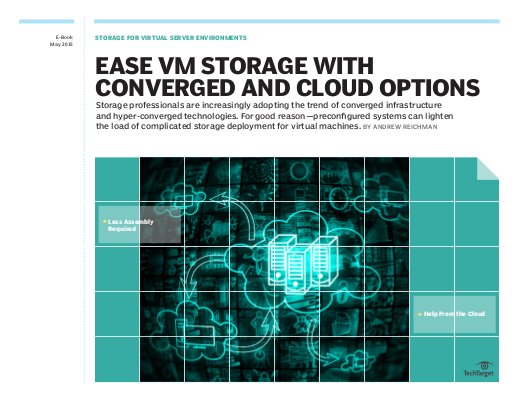 Getting Started with Hyper-Converged Storage
This E-book will walk storage admins through the benefits of converged, hyper-converged and cloud storage in virtual server environments to help them gain an understanding of how the infrastructure complications are still plaguing many IT professionals today.
By submitting your personal information, you agree that TechTarget and its partners may contact you regarding relevant content, products and special offers.
You also agree that your personal information may be transferred and processed in the United States, and that you have read and agree to the Terms of Use and the Privacy Policy.

Convergence may influence consumers to accept new technologies. According to some studies, people who aren't computer literate are more likely to embrace the Internet, video-on-demand, and so on if they can -- at least initially -- access these technologies through their televisions. In general, TV is familiar and non-threatening. Displays are large and TVs are easy to operate, requiring almost no training. Personal computers, in spite of their graphical user interfaces ( GUI ) tend to be more text-oriented, highly interactive, oriented in terms of purpose and content toward business and education uses. Displays are smaller. Computers can be very challenging to use and usually require formal education or a certain personal learning curve.
Computer-television convergence is already underway with WebTV , which pipes the World Wide Web to a slightly-modified TV set with a set-top box from an ordinary phone line and provides a degree of interactivity. A number of interactive games designed for the TV environment can also be played over the Internet. Broadcasting companies such as NBC have partnered with computer companies such as Microsoft for TV program content.
A major barrier to more rapid convergence is the large investment required to bring cable TV to households, both by cable access providers and individual households. Satellite wireless service is another approach that is only beginning to bring its subscribers access to the Internet. Digital Subscriber Line ( DSL ) technologies offer the possibility of sufficient bandwidth connections over ordinary phone wires for streaming video to TV sets.
A consortium of leading computer and telecommunication companies including Compaq, IBM, and Microsoft are working toward common standards that will help speed up convergence and hope to sponsor a standard for a relatively low-cost digital TV . They have endorsed a subset of the recommendations of the Advanced Television System Committee (ATSC) that would speed up a transition to digital TV and so that personal computers could have the ability to receive digital video and data.
Dig Deeper on Converged Infrastructure Implementation
PRO+
Content
Find more PRO+ content and other member only offers, here.